Goldingham Contracts Ltd offer a high quality on-farm Mobile Seed Processing service for farm-saved seed to farmers in the following Western Counties:
England:
Gloucestershire, Herefordshire, Worcestershire, West Oxford, South Warwickshire, North Wiltshire, Somerset
Wales:
Gwent (Monmouthshire), Glamorgan, Powys
Other Areas:
Considered if linked to customers within our normal area or the quantities are sufficient to justify the visit
Crops Processed:-
Cereals
Peas
Beans
Oilseed Rape
Linseed
Seed Treatment Range
We access most of the major seed treatments for the combinable crops that we process.
Seed Bags
We supply quality reusable bags: 500kg & 1T sizes for cereals, peas, beans and 25kg for OSR & Linseed.
Benefits of Farm Processed Seed
For further details click on choices below:-
| | |
| --- | --- |
| | Reduce Your Seed COSTS by £40-3000/tonne. |
| | Improve your CASHFLOW by only paying our contractor charge and not full certified seed cost. |
| | Late seed planting can compromise yield. |
| | Control your own seed QUALITY using our conventional and gravity cleaning. |
| | Fully independent Seed Testing for crops processed. |
Financial Savings
Many farmers first start using Farm Processed Seed because they wish to achieve significant cost savings against the cost of bought-in Certified Seed.
Listed below are typical savings achieved after deduction of all costs, such as grain value, processor charges, royalties where applicable, seed test and farm labour costs.
These savings will vary according to:
Crop type, seed type, variety and whether royalty bearing or not, and supply and demand for a particular variety.
Species
Typical Savings/tonne,
Royalty Bearing
Winter Barley/Wheat Feed Varieties
£50-£150
Winter Wheat Milling Varieties
£60-£150
Winter Oats
£70-£150
Triticale/Rye
£80-£200
Beans/Peas
£100-£200
Oilseed Rape
£4000-£6000
Linseed
£500-£1000
Spring Cereals
£80-£200
If seeds such as spelt or Heritage Varieties are non-royalty bearing a further £50/T saving is possible.
Improve Cash-flow
Most seed is supplied at a time when cash-flow is critical. By processing your own seed the farmer only has to pay out our processing charge etc and not the cost of the seed. This gives the farmer an improved cash-flow which saves money.
Seed On Time
Late seed planting can compromise yield.
Farm-processed seed does not leave your farm so you, the farmer, are in control of when it is processed for planting.
We operate three modern Mobile Seed Cleaners built to suit local area needs.
How often do farmers have to delay autumn drilling as their certified seed has not been delivered?. The logistics of such a short turnaround time create immense pressures for the seed trade.
We plan our workloads to process your seed on time.
How Do We Control Quality?
We offer seed testing prior to processing, discussing your particular needs and objectives.
We have three modern Mobile Seed Cleaners with latest up-to-date cleaning and processing equipment.
We provide choice of latest seed treatments as for Certified Seed.
Our staff are highly trained and experienced staff in understanding your own farm needs.
High quality reusable bags available.
Sample retained from each seed lot.
Click here for Seed Quality benefits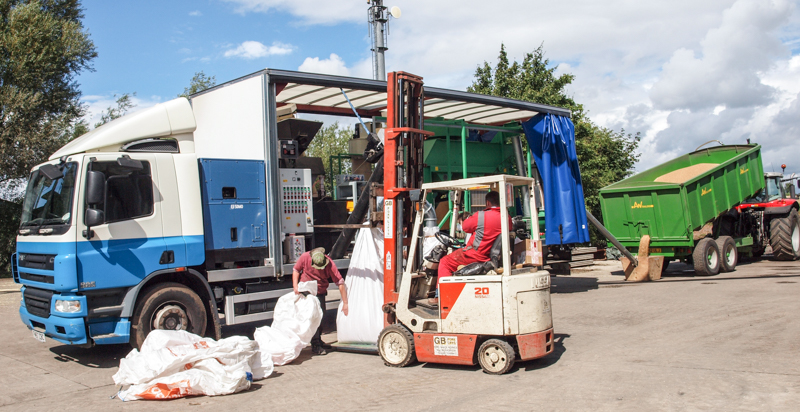 Fully independent seed testing for crops processed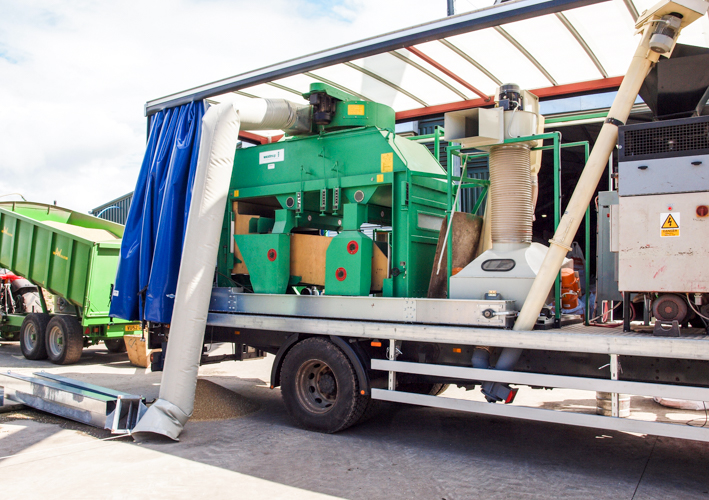 Mobile seed cleaning delivers seed when you need it.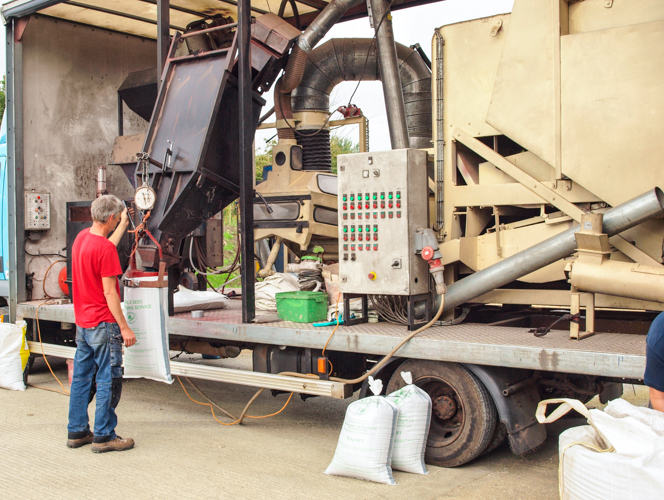 Mobile seed cleaning reduces costs and improves cashflow.
(Shown here for Oilseed Rape)